Delhi Food Joints:(Dr. Rameshwar Dayal) One dish that has made a rapid and effective entry into the food culture of Delhi is Chicken Biryani. This Mughlai dish was available only in Muslim dominated areas till long ago and food lovers had to go to these areas to eat this dish, but now the time has changed. You will go to any area of ​​Delhi, where you will see Chicken Biryani being sold in a big deg. The sellers always claim that this is the famous Biryani of Old Delhi.
It is given by weight. The method of each seller will be different. Some will serve it with brown onions fried in oil on top of biryani, while some will inspire to feed it with raw chopped onions. If you find pickle of chopped green chillies somewhere, then someone will feed you with raita. The special thing is that there will not be much chicken pieces in it, but the taste will be exactly like chicken biryani.
When sellers claim that their biryani is as famous as Old Delhi, why not take you to Old Delhi and introduce you to the famous biryani there. If a resident of any area of ​​Delhi is a fan of Chicken Biryani, then he must have known about this Biryani person.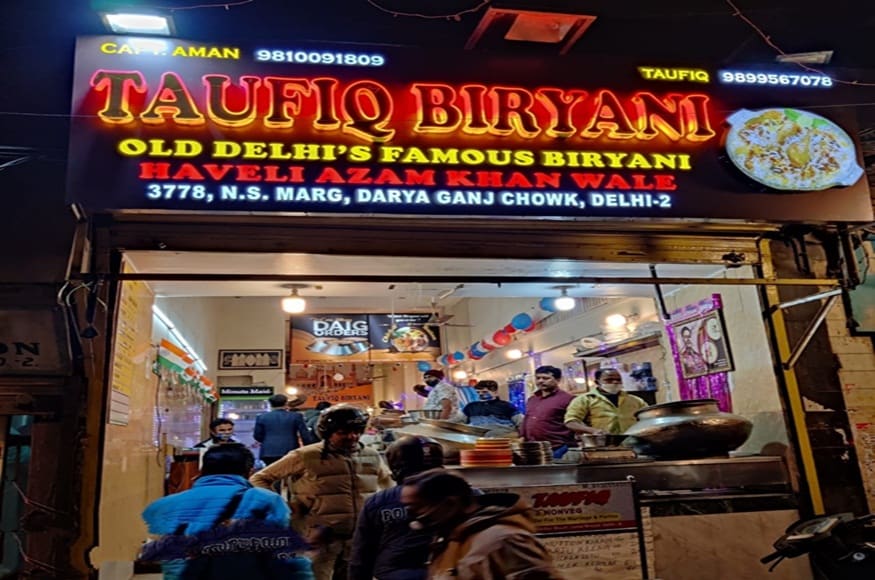 The taste of Old Delhi remains intact in the biryani here.
shop in old delhi
You will reach the Jama Masjid area and ask anyone where the 'Taufiq Biryani' person is, he will tell you the address quickly. Actually, the full name of this shop is 'Taufiq Dilpansad Biryani Point' but it is famous in the whole of Delhi as Tawfiq Biryani Wale. When you reach the main gate of Jama Masjid, the road in front leads to Matia Mahal, ahead of it is the Haveli Azam Khan only after the Chitli tomb area. There are quite winding streets in this haveli, where you will see the shop of this biryani.
There is a small shop. There are benches for eating. There is no table. Two degs are kept on the counter itself. There is a lot of hot biryani in them. Its color is like white and light saffron. The aroma of Biryani wrapped in spices is wonderful and alive. Besides chicken pieces, the biryani is also full of almonds. The whole deg looks drenched with refined oil. But the oil is sitting at the bottom and is not visible in the biryani above. There is not much frills to eat biryani.
Almond Biryani is available according to the weight
Weigh as much biryani as you want to eat, if you want, you can get pickled green chillies from above. Beside the plate is filled with raitab. Pour raitab over the biryani with a spoon and eat it sitting wherever you want. The comfort seen on the faces of the eaters is proving that biryani is of their choice. Since this is a Muslim-dominated area, beef biryani is also available in different places at the shop. But people enjoy chicken biryani only.
The owner of this biryani shop is Mohammad Taufeeq. His ancestors are residents of Meerut. Taufeeq worked in a hotel in Burhanpur area of ​​Madhya Pradesh years ago. Wash the pot. When the understanding of making biryani was realized, in 1998, he opened a biryani shop in Haveli Azam Khan. The work went on. Nowadays, there is a chicken biryani worth Rs 240 per kg. Eat as much as you like. If you want, you can pack it and take it. The service of packing is satisfactory.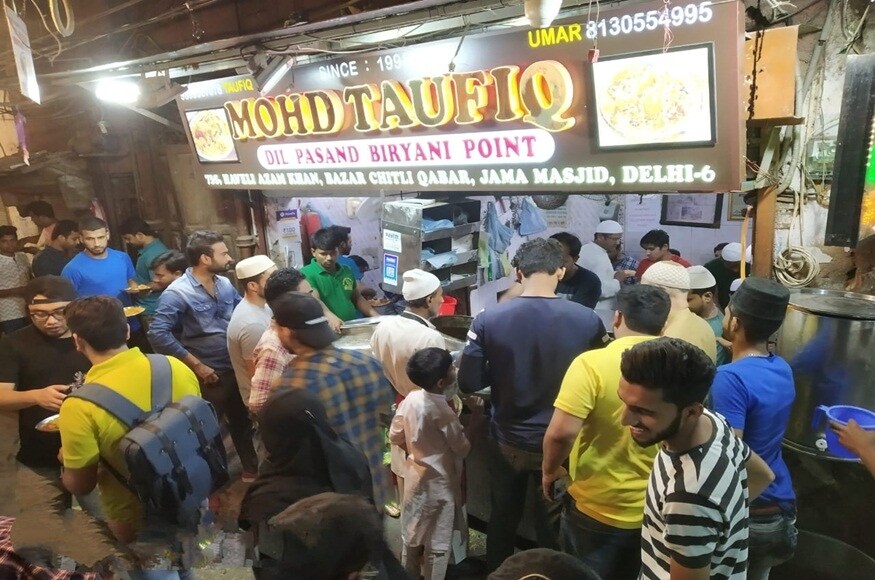 Chicken biryani worth Rs 240 per kg is available at the shop.
There is also a branch in Darya Ganj branch
There is also a branch of Taufik Biryani in Darya Ganj Main Road. There also a lot of people who eat biryani gather. This shop was opened last year because the old shop is very inside and there is no parking facility there. Biryani is prepared on the deg from morning till night and it reaches the shop according to the demand. Sometimes you have to wait. Honor says that 18 types of spices are put in biryani. These include mace, nutmeg, cinnamon. All the whole spices are bought on their own and they are ground on their own mill. The milk itself is frozen to add curd to the biryani. Fresh chicken is ordered daily from the market.
Only biryani is available in the old shop, but in addition to biryani, in addition to biryani, stews, mince etc. are also available in addition to chicken and mutton korma. Tandoori Chicken, Afghani, Fry Chicken is also available at this shop in the evening. Biryani starts to be available at both the shops at 10 in the morning and remains there till 11 in the night. There is no holiday. Nearest Metro Station: Jama Masjid
Read Hindi News see more online Live TV News18 Hindi website. Know related to country and abroad and your state, Bollywood, sports world, business News in Hindi.
.