Delhi Food Joints: (Dr. Rameshwar Dayal) Chole Kulche is quite famous in Delhi. The road, street, market where you leave, you will definitely see the sweetness of Kulche-Chole. Since Delhiites have been enjoying this dish for years, the vendors have started experimenting to make it more delicious. On the fine of one such user, we are running for you. Not only does he make many changes in Kulcha-Chole to enhance the taste, the great thing is that there is a lot of butter in this dish. Kulchas are soaked with butter, apart from this, the tempering of butter is also applied in chickpeas. The special thing is that in most areas, where two kulchas are found in a plate, three kuchas are offered along with two full chickpeas.
This is how delicious Kulchas are made
In West Delhi you will reach Naraina PVR, in the parking lot you will see 'Chunilal Veeru Bhai' decorated with kulche-chhole. Nothing is sold here other than this, just to make the taste better, a glass of raita is also served. Now let's also see how to make their Kulche-Chole. First of all, a light layer of spicy chutney made of garlic, red chilli and tomato is applied on the kulchas. Then butter is floated in the pan.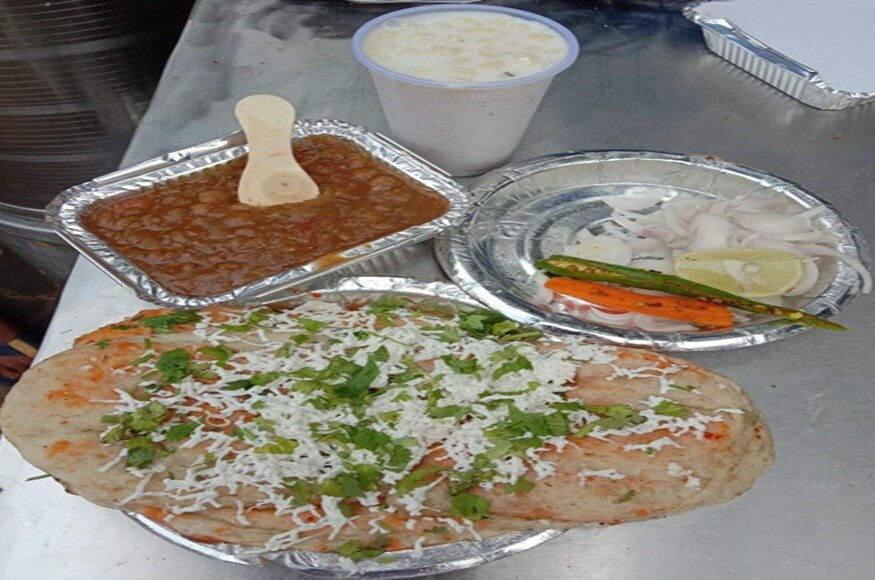 To make the taste even better, a glass of raita is also served.
Each kulcha is kept wrapped in this butter. When several kulchas become saturated with butter, then they are spread on the same big tava (griddle). Kulchas are heated in low flame. Then chopped coriander is sprinkled on them. After that, paneer is crushed and scattered on all these crushes. Kulchas ready. Such preparations of Kulchas are rarely seen anywhere else in Delhi.
Butter onion tempering in chickpeas
Now listen to the story of chole. By putting chickpeas in a large cauldron, many types of ground spices are put in them. Adding coriander, green chili, lemon juice is mixed well. When these chickpeas are ready, they are not given directly to the customer. Butter tempering is still left. Now again a lot of butter is poured on the pan. When the butter starts to crackle, a lot of chopped onions are lightly fried on it. After this, the chickpea cauldron is put on it. The sound and fragrance of the chhounk, it tells that the goods are ready.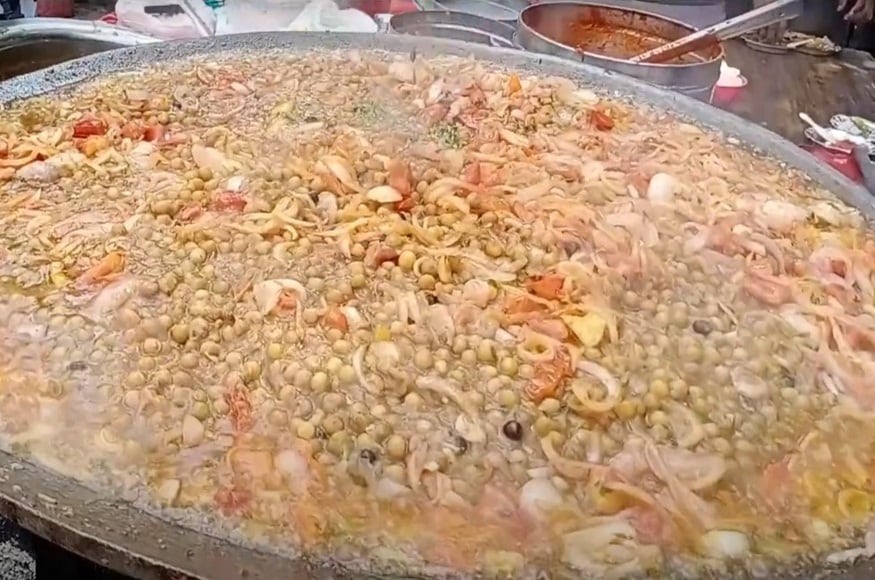 The cost of hot chole and three kulchas is Rs 50.
When chickpeas are mixed well in butter-onion, paneer is crushed on them, then poured into the pan. Now Kulche-Chole is ready. If you want to eat more spicy, then a separate spice will be sprinkled on your chickpea leaves. The cost of hot chole and three kulchas is Rs 50. Spicy red chutney, chopped onion and green chili pickle are also served with them. If the dish is to be made delicious, then a glass of raita can be taken along with it, which costs 10 rupees.
This dish of Kulche-Chole is going on since 2004
This thea was started by Chunilal (Veeru Bhai) in the year 2004. Earlier it was outside the parking lot. It has been inside for the last ten years now. Veeru earlier used to work as Kulche-Chole along with his elder brother. Later he took his own stand. People from far and wide come to eat Kulche-Chole. The packing is great. People come, eat, get packed and take them away. There is a lot of crowd on holidays and Sundays. Veeru says that our special spices, which we grind in front of us, rich butter and our behavior is the secret of success. There is no holiday. These Kulche-Chole can be tasted from 10 am to 5 pm.
Nearest Metro Station: Naraina and Shadipur
Read Hindi News see more online Live TV News18 Hindi website. Know related to country and abroad and your state, Bollywood, sports world, business News in Hindi.
.