(Dr. Rameshwar Dayal)
Delhi Food Joints: You must have known the food of Khomcha. Delhi Is there a time to eat khomche in the whole country? Broadly, this meal will include Aloo Tikki, Dahi Bhalle, Matar Kulcha etc. But now the Khomcha of Delhi is making a little progress. Today we take you to such a person who is selling traditional food, he invented a new dish 'Moonglet' after searching for it. This dish is also old, but so many changes have been made in it that its taste has changed, due to which its taste has become on the tongue of the people. They are made separately by placing four fry-pans together. On holidays or on other days, their number doubles.
Tikki, Matar Kulcha or Fruit Chaat, all are delicious
Technically, the Karol Bagh area is not called Old Delhi, but the culture, crowd, population, markets bring it closer to Old Delhi. Now if there is an old city, then traditional or traditional food will also be available there, so today we are taking you there. If we walk on Ajmal Khan Road of Karol Bagh, then on the right side, initially on the right side, you will see the picture of 'Karol Bagh Chaat' outside the 'Varadan House' building. It is very famous in the area, because it is very old.
On this dish you will get khomcha food like aloo tikki, tikki chole, matar kulcha, fruit chaat. Take any dish, the taste is great. Their tikki chole is earning a name, as well as the fruit is superb, the spices and chutney added to it create a different taste. All hot and fresh, because the eaters are not few. The price of all these ranges from Rs 80 to Rs 100.
Aloo Tikki, Tikki Chole, Matar Kulcha, Fruit Chaat will also be available here.
The taste of moonglet is amazing
The honor of this dish invented a dish a few years back to entice the audience and provide them with a different taste and the name that earned this dish has been named 'Munglet'. This is actually a new version of cheela and pizza. Butter is first put in a frypan, after it is heated, some vegetables, sweetcorn, finely chopped onions and moong dal paste made in capsicum are put in the frypan. This batter is a lot, so even though it is cheela, it becomes thick like a pizza, it is a little spicy. After frying from both the sides, this moonglet is served with red chutney of dates and sour-spicy chutney made from green chillies, coriander etc.
The taste is amazing and unmatched. Something like omelet-cheela-pizza. Its demand is so high that on normal days four frypans are made separately. Cooks simultaneously in eight frypans on Sundays and special occasions. Its price is Rs 120.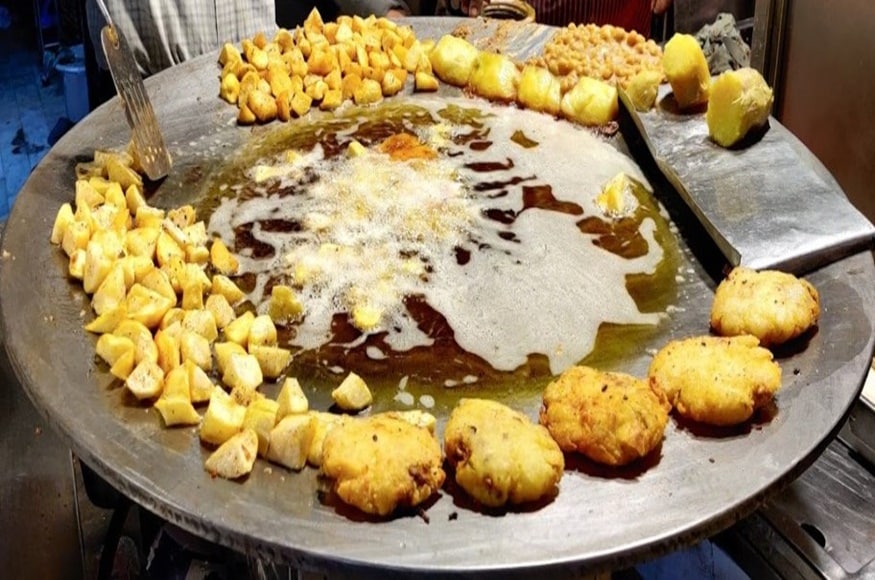 This area is completely commercial, so foodies keep coming and going.
The third generation is serving the taste
Today the third generation is working on this thread. In the year 1970, Thiye was started by Omprakash. After that this work was carried forward by his sons Dinesh and Rakesh. Today together his sons Deepak and Guru are helping. The area is completely commercial, so foodies keep coming and going.
He says that we have not compromised on taste. That's why people have been coming for years to eat. The work starts at 1 pm and till 10 pm everyone's taste can be enjoyed. There is no holiday.
Nearest Metro Station: Karol Bagh
Read Hindi News see more online Live TV News18 Hindi website. Know related to country and abroad and your state, Bollywood, sports world, business News in Hindi.
.