Delhi Food Joints: (Dr. Rameshwar Dayal) Whenever we talk about sandwiches, this thought will come in our mind that it will be light in food and after eating it, we will have to eat something else. But the changing thinking of food has also changed the definition of sandwich. Now such heavy (jumbo) sandwiches are being found that there is no desire to eat anything after eating them. The taste is also so great that you will not even feel that you are eating any dish related to bread. This sandwich will be filled with so much and together with the way it is cooked that it forgets everything while eating.
Let us also tell you that Mumbai's sandwich is always considered top. So why not take you to a place in Delhi where sandwich makers have brought training from Mumbai. Moreover, the spices used in this sandwich are also imported from Mumbai itself.
There are 30 varieties of three types of sandwiches
You must have heard the name of South Extension, the super posh area of ​​New Delhi. Adjacent to the Ring Road is the South X Market, which is famous in the country and abroad. Today on 'Wow Sandwich' in G Block of the same market
We go for you. It is also easy to reach here because McDonald's outlet is also nearby. The owner of the shop says that in five minutes, we will give you such a rich and colorful look of Mumbai.
We will offer sandwiches which you would not have eaten anywhere in Delhi.
They have broadly three types of sandwiches. These include Grill Sandwich, Jumbo Triple Taker and Big Size Bread. There are also around 30 varieties of these three types of sandwiches, which will increase your appetite. These range from simple bread butter, butter jam, butter cheese jam, cheese corn grilled, cheese schezwan, cheese mayo grilled, paneer mix veg, paneer mushroom cheese, paneer tikka sandwich to heavy sandwiches. You can choose any sandwich according to your appetite and taste.
There are three types of sandwiches here. These include Grill Sandwich, Jumbo Triple Taker and Big Size Bread.
Also read- Enjoy Mumbaiya style pav bhaji by coming to 'Jhakkas Bombay Pav Bhaji' at Punjabi Bagh
Special Mumbaiya Masala and Chutney is the USP
Here is a way to make a sandwich, knowing which your appetite will increase and the mind will also be happy. First of all, butter is wrapped on the bread, green chutney is coated on it. A special dish of dried potatoes is put on them, then cheese is crushed on them. After this, a layer of mayonnaise, chutney and mixed veg is spread on it. They are then sprinkled with Mumbai's special spices and finally the cheese is crushed one more time. In this way three layers of bread are prepared. This heavy sandwich is grilled for three minutes. After that, it is served with some potato chips apart from green chutney, tomato sauce and special Mumbaiya chutney by placing it in a plate. As soon as a piece of it goes in your mouth, Wow will automatically come out of the mouth.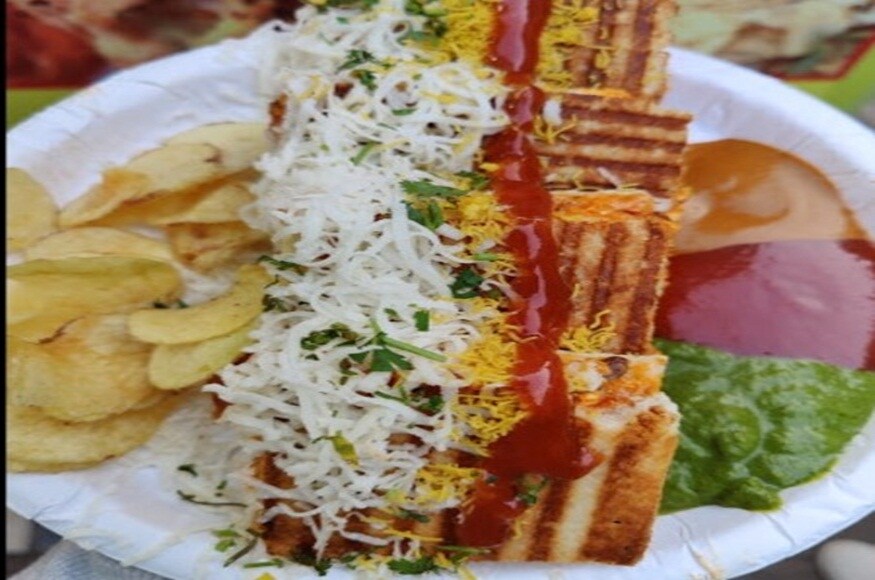 Here the price of these sandwiches of various varieties starts from Rs.80.
The price of these sandwiches of different varieties starts from Rs.80 and the more 'heavier' the sandwich becomes, the more its price increases. The maximum price of the sandwich ends at Rs.240.
Enjoy Garlic Bread, Pizza
Various varieties of garlic bread are also available at this shop. Their taste is also amazing. Eat and feel happy. The price ranges from Rs.100 to Rs.150. If you want, you can also enjoy many types of pizza here. Whose price ranges from Rs 140 to Rs 200. Ajay Jha runs this shop. He says that this shop is 28 years old, but earlier the work was something else.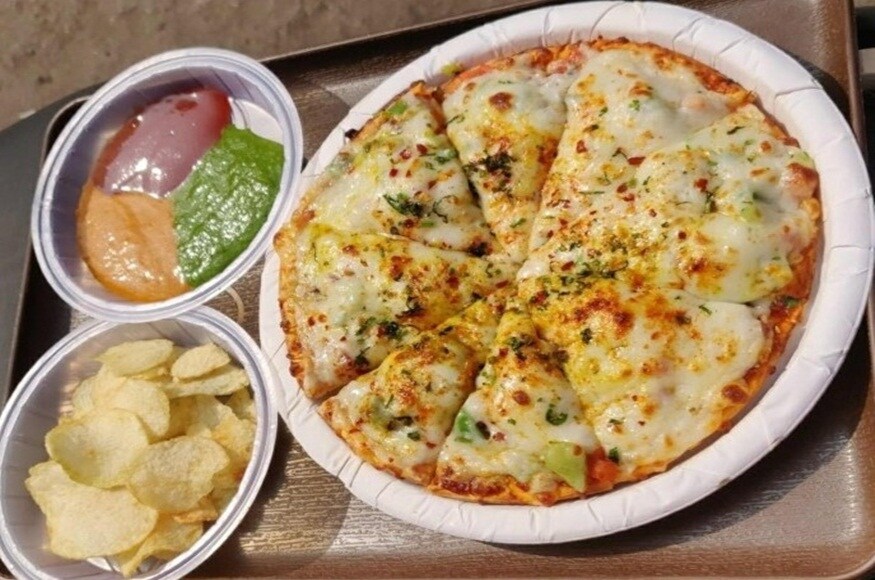 You can also enjoy a variety of pizzas here. Whose price ranges from Rs 140 to Rs 200.
Also read- If you want to enjoy the real pleasure of Kulfi-Faluda, then taste the taste of 'Roshan Di Kulfi' in Karol Bagh
He says that many of his relatives do sandwich work in Mumbai. He learned to make sandwiches by staying with him for a few years. After that three years ago he opened his own sandwich shop in Delhi. He says that he orders special spices and chutney spices for sandwiches from Mumbai itself. That's why people believe that the taste of our sandwich is different. His 'Jain Sandwich' is also earning a lot of name. The sandwich market gets decorated at 9 in the morning and work goes on till 9:30 in the night. There is no holiday.
Nearest Metro Station: South X
Read Hindi News see more online Live TV News18 Hindi website. Know related to country and abroad and your state, Bollywood, sports world, business News in Hindi.
.