(Dr. Rameshwar Dayal)
Chole Puri: The confluence of chole with poori has been a tradition in Indian cuisine. Till long ago, new guests who came to the house were welcomed with Chole-Puri. Moreover, in marriages and other functions also, the processions were welcomed with Chole-Puri. Now this trend may not be very much, but if you get Chole-Puri in breakfast or lunch, then people still make up their mind to eat it. Today we are taking you to one such restaurant, whose Chole is famous all over Delhi. Their taste is different because the makers have maintained the taste of Lahore in it even today. If the chickpeas are accompanied by fried potatoes, then the piti is filled inside the poori. That's why people are liking this dish even today.
Chole's special vegetable has potato tempering
When you reach the roundabout of Kamla Nagar market, which is called 'Connaught Place' of North Delhi, you will see the old and famous restaurant of 'Bille Di Hatti'. Earlier the name of this restaurant used to be 'Bille the Hatti of Lahore'. The reason for this is that those who run it had come from Lahore after the partition and had settled here. The taste of their food still smells of Lahore. The menu of this shop is very 'clean'. Potato tempering in chickpea curry and lassi in a glass. There are other items in the restaurant to amuse the heart, but people's heart gets stuck by going to Chole-Puri and Lassi.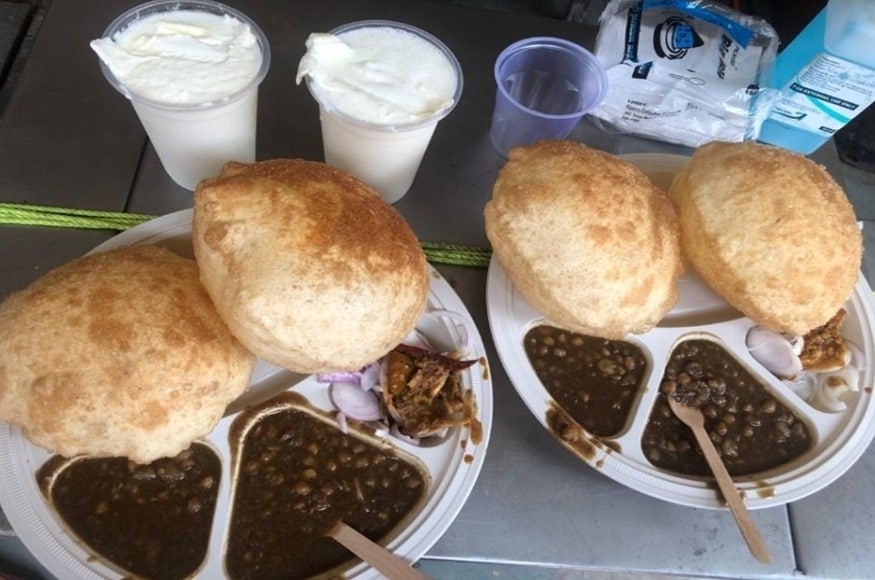 When you reach this restaurant, you will see hot poori coming out of the pan. Along with this, there are chole made in a special way. Spicy potato tempering is also accompanied with chickpeas. You go, order and taste sweet and cold lassi together. With this dish, apart from chopped onions, you will also get fenugreek chutney and seasonal pickles. Pickles and chutneys are made by themselves, so their taste will be different.
The urad dal sticks in the poori
Their whole is not normal, a little urad dal piti is filled in it, due to which its taste is also different. After eating this heavy and Lahore flavored dish, you will feel like taking a glass of lassi too. A plate of chole-puri is priced at Rs 70, along with a glass of lassi is also available for Rs 70. The owners of this restaurant still make the chole themselves, while the pooris are prepared by artisans.
The fourth generation of the family from Lahore is operating
This restaurant is one of the oldest restaurants in Delhi. Today the fourth generation of the family is trying its hand in this work. This restaurant was started by Sohanlal Manchanda in the year 1952. He had come from Lahore. Earlier his shop was there. The taste of Lahore came out in this area. The restaurant was handled by his son Rajaram with him. After him, the responsibility of this restaurant fell to his two sons Vijay Kumar and Krishna Kumar.
Today this restaurant is owned by his sons Amet Manchanda and Kritu Manchanda. He says that the spices which were set by his great-grandfather, are being implemented even today. The restaurant opens at 7 in the morning. Here you can taste the puri-chhole from breakfast till lunch at 3 pm. Lassi can be drunk till 8 pm. In the shop, semolina pudding and samosas are also sold in the evening, but the taste is of puri-chhole. The shop is open all week. Two years ago, he has also opened a branch in Pitampura. The same menu is going on there too. Packing facility is also available.
Nearest Metro Station: Vishwavidyalaya and Pulbangash
Read Hindi News see more online Live TV News18 Hindi website. Know related to country and abroad and your state, Bollywood, sports world, business News in Hindi.
.