Delhi Food Joints: (Dr. Rameshwar Dayal) Whenever you go to Connaught Place (Rajiv Chowk), the heart of Delhi, you will find such shops, showrooms and food and drink outlets that are still spreading their charm in this first open mall of the country for years. Several restaurants outside Shankar Market in CP's outer circle have been a scintillating place in Connaught Place over the years. Rajma Chawal in front of Fire Brigade here and Kadi Chawal at Shivaji Stadium Terminal has been the icon of Connaught Place for years. Let us take you to one such milkshake shop. About which it is said that this shop was run by an Englishman for years and then later this work came in the responsibility of the Indian.
Some of the shakes found at this shop have been around for years and still taste the same. The special thing is that these shakes are served in glass bottles instead of glasses. Years ago this shop was a favorite of the students and even today you can see young people drinking shakes here.
7 Signature Flavors That Have Been Captivating People For Years
If you reach A block in the inner circle of Connaught Place, you will see this shop named 'Shake Square' near the petrol pump. The name of this shop is so famous that as soon as you reach here, you will ask someone where is the glass bottle milkshake shop, then you will get the information immediately. Long ago, only four shakes were available at this shop, but now its seven shakes are considered to be the signature, whose taste is the same as it was years ago. These include Strawberry, Pineapple, Vanilla Chocolate, Coffee, Mango and Butter Scotch. You place the order, a thick glass bottle with a straw will be offered to them. This glass bottle is similar to the one that used to be found at the government milk booth of Delhi Milk Scheme (DMS) till a few years back.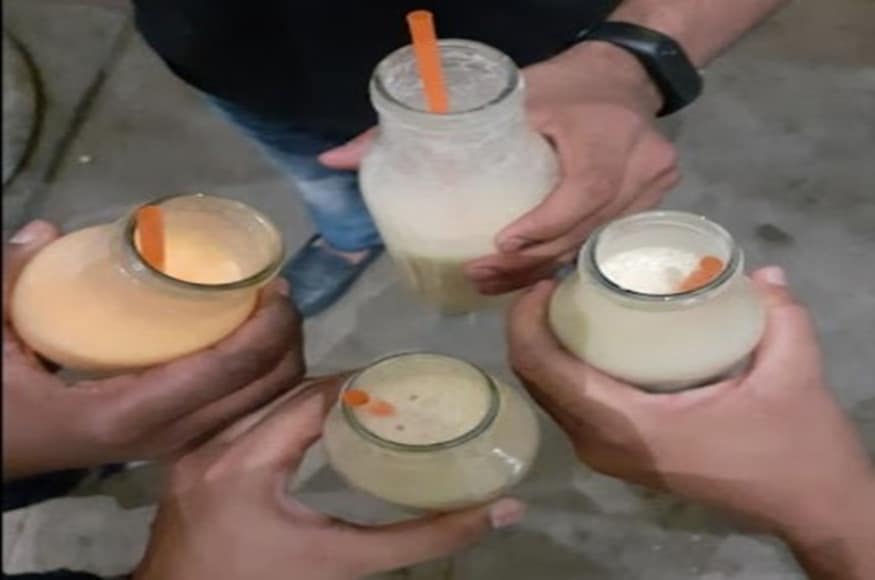 The seven shakes here are considered to be signatures, whose taste is the same as it was years ago.
Now many new and continental flavors are also available.
This shake made from half a liter of milk will be so cold that you will feel that your brain is also going to freeze. Sometimes the frozen shake's powder will fill your mouth and you will be surprised. The price of all these shakes is 90 rupees. Since the arrival of the Metro has made Connaught Place a tourism place, many new flavors of shake have also been prepared here. These are about a dozen new flavors, which include Bubblegum, Pistachio Nut, Cassata, Rabri Kulfi and Continental Taste. These days food and drink items are also being available in this shop, but the shake filled in glass bottles is the identity of this shop. If a resident living in Delhi for years comes to Connaught Place, then he will try to make a day by drinking milkshake of this shop.
This milkshake shop is earning a name since English times
There has been no change in the taste of their signature milkshakes. Honor says that the taste that was there during the British, it is still there today. Their formula for making shake is secret. Let us tell you that the name of this shop was earlier 'Kventors'. This name was given by the British owners. In the year 1971, the rights of this shop came to the Surendra Pahuja family. Later in the year 2011 due to various reasons, the name of this shop was changed to 'Shake Square'. Anytime you go from morning till night, a crowd of shake drinkers will be seen here. Shake starts here at 10 in the morning and work continues till 11 in the night. There is no holiday at this famous shop in Connaught Place.
Nearest Metro Station: Rajiv Chowk
Read Hindi News see more online Live TV News18 Hindi website. Know related to country and abroad and your state, Bollywood, sports world, business News in Hindi.
.