Food Joints of Delhi: (Dr. Rameshwar Dayal) The glory of rice in the food of the capital Delhi is also unique. If you go to any restaurant or food outlet, then you will definitely find two varieties of rice there. Chole-rice, curry-rice and rajma-rice are available in Delhi Street Foods. You will see these three dishes everywhere. Let us also tell you that wherever in the capital you will see a lot of these three dishes in commercial places like Rajendra Place, Nehru Place, Netaji Subhash Place etc. The reason for this is that they do not have to wait much, secondly, this food is not considered too heavy for the stomach.
When we have praised rice, you must have agreed that today we are going to introduce you to a dish related to it. Yes, today we make you taste the vegetable of Chole and Spinach with rice. There will be very few such food joints in Delhi, where you will get the confluence of these three. Their mixed taste gives a different satisfaction.
Spinach curry with chickpeas and rice
Avantika Market in Rohini area of ​​Outer Delhi is very famous. He has an outlet of 'Shri Gopalji' in Pocket-7 of Sector-2. It is also known as Gopalji Chole-Bhature in the area. corona
It was a restaurant before the outbreak, but nowadays food is sold only after packing. Four items are being sold at this outlet since inception. Among them, Chole-Spinach-Rice is the main dish as well as Chole-Bhatura.
Apart from this, Raita and Lassi are also quite famous.
Let's talk about Chole-Spinach-Rice first. This mixture has a different taste. The reason for this is that groundnut oil is used to make them. For years, special spices are made by bringing spices from Old Delhi and grinding them and this dish is prepared from them. The way is that chickpeas are kept on top of the rice. Apart from this, spinach is made in a special way. It is ground and then its thick curry is made. This curry is also mixed in rice.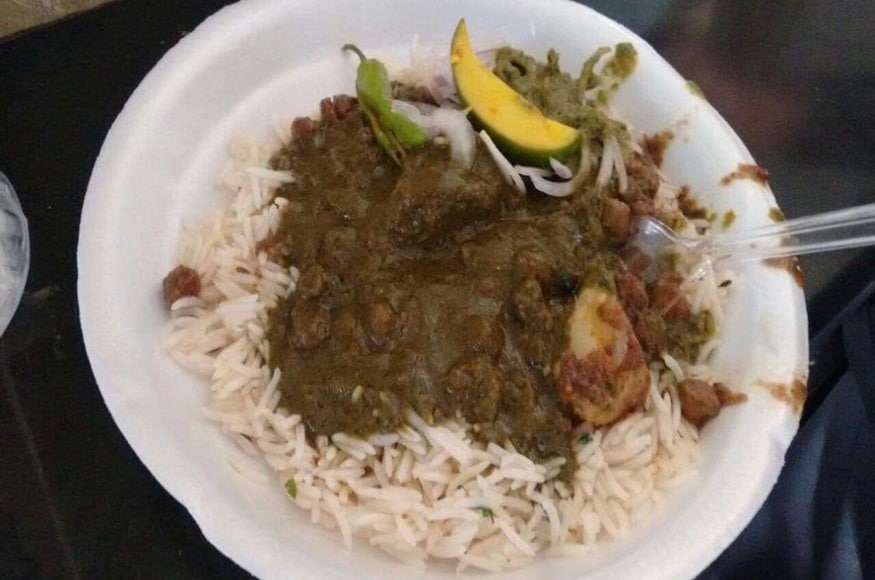 This delicious dish is available here for Rs 120.
Seasonal pickles such as mango or carrot are also offered along with this dish, along with pickled onions and green tangy chutney and chillies. The taste that is formed by mixing all these, not only makes the mouth juicy, but also satisfies the mind. The special thing is that a woman also has an important role in making them. At his behest, spinach curry was added to this dish, due to which a different taste emerged. This delicious dish is available for Rs.120.
Secret masala apart from paneer in bhature
The chole-bhature here is no less wonderful. One of the specialties of their bhature is that not only paneer is stuffed in them, but special spices are also added. This secret masala is also prepared by itself, which enhances the taste of bhature. Groundnut oil is also used for frying these bhaturas. The specialty of this oil is that it is expensive than other oils as well as when the bhaturas are fried in it.
So they become crunchy, but when their mouthful is broken and put in the mouth, then these bhatures are felt by dissolving in the tongue. Chole is also wonderful. There is a tinge of Multani flavor in them. so with bhaturas
While eating gives different fun. These chickpeas are not very spicy. Lachha onions, green chutney, chillies and seasonal pickles are also given with them. The cost of a plate of Chole-Bhatura is Rs.100. these two chutneys
Apart from items, sweet lassi is also available for Rs 60 and spicy raita for Rs 40. Their taste will also be seen giving you some different freshness.
In this way increased test in mines
This shop is in the area since the year 1996. The head of the shop is Hargopal Grover. They belong to the Multan area of ​​Pakistan. When he started the shop, his wife Prerna Grover helped him a lot and tried that his food should taste like home. He also had the idea of ​​mixing chole-spinach and rice. The result was that the work got done. Nowadays his son Harsh Grover is also watching this outlet. He is a Junior Software Engineer.
This shop is in Rohini Sector 7 since the year 1996.
Used to work in a multinational company. But the mind did not stay there and got busy in family work. The family says that the special spices made by us, groundnut oil and the familiarity with the taste of home are taking their work forward. There is no weekly holiday.
Nearest Metro Station: Rohini West
Read Hindi News see more online Live TV News18 Hindi website. Know related to country and abroad and your state, Bollywood, sports world, business News in Hindi.
.