(Dr. Rameshwar Dayal)
Famous Food Joints In Delhi-NCR: When we talk about ice cream, it is common that Kulfi was born before ice cream. Kulfi is not as soft as ice cream, but nothing extra is added to make it tastier. Kulfi is a kind of solid and cold form of milk products and fruits. This was followed by the invention of ice cream, in which the taste of Kulfi was made soft and fluffy. Today we are introducing you to a family who transformed Kulfi into the perfect Roller Fruit Ice Cream. This is a different concept of confectionery. This family is still selling kulfi for years now, when it released its new version, it won the hearts and tongues of the people.
This sweet-cold dish is a wonderful amalgamation of ice cream and kulfi
If you reach Geeta Colony in Yamunapar, here you will see a shop of 'Dhani Ram Kulfi Wale' in front of Ramlila Ground. Since this shop is related to Old Delhi, it has also been named Dhani Ram Kulfi & Chaat, Chandni Chowk. But people know it only by the old name. Roller Fruit Ice Cream is actually a wonderful amalgamation of Kulfi and Ice Cream, which has the sweetness of fruits as well as the flavor of Kulfi and Rabri. Making it is also a very challenging task, only then its waters are different. Seeing it being made is also a different experience. A Drumnumann roller is filled with ice as well as salt. Then to rotate this roller continuously, it is mounted on a special type of thread. After that the process of making fruit ice cream starts.
Read also: If you want to eat chole-puri filled with the taste of Lahore, then definitely come to 'Bille Di Hatti' in Kamala Nagar.
The cool taste of fruits, cream, rabri warms the heart and mind
A squirt of thick rabri or cream is poured over the rotating roller. This edge starts to freeze as soon as it is put on the roller. Then after that, according to the season, the edge of mango, pomegranate, orange, watermelon juice is poured on this roller. To make it pulpy, the pulp of these fruits is also rubbed on the roller. After this, a layer of khus or Rooh Afza sherbet is also laid. This process goes on continuously. When this happens, a thick layer of rabri, cream and fruit juice gets deposited on the roller. The special thing is that a person keeps rotating this roller continuously.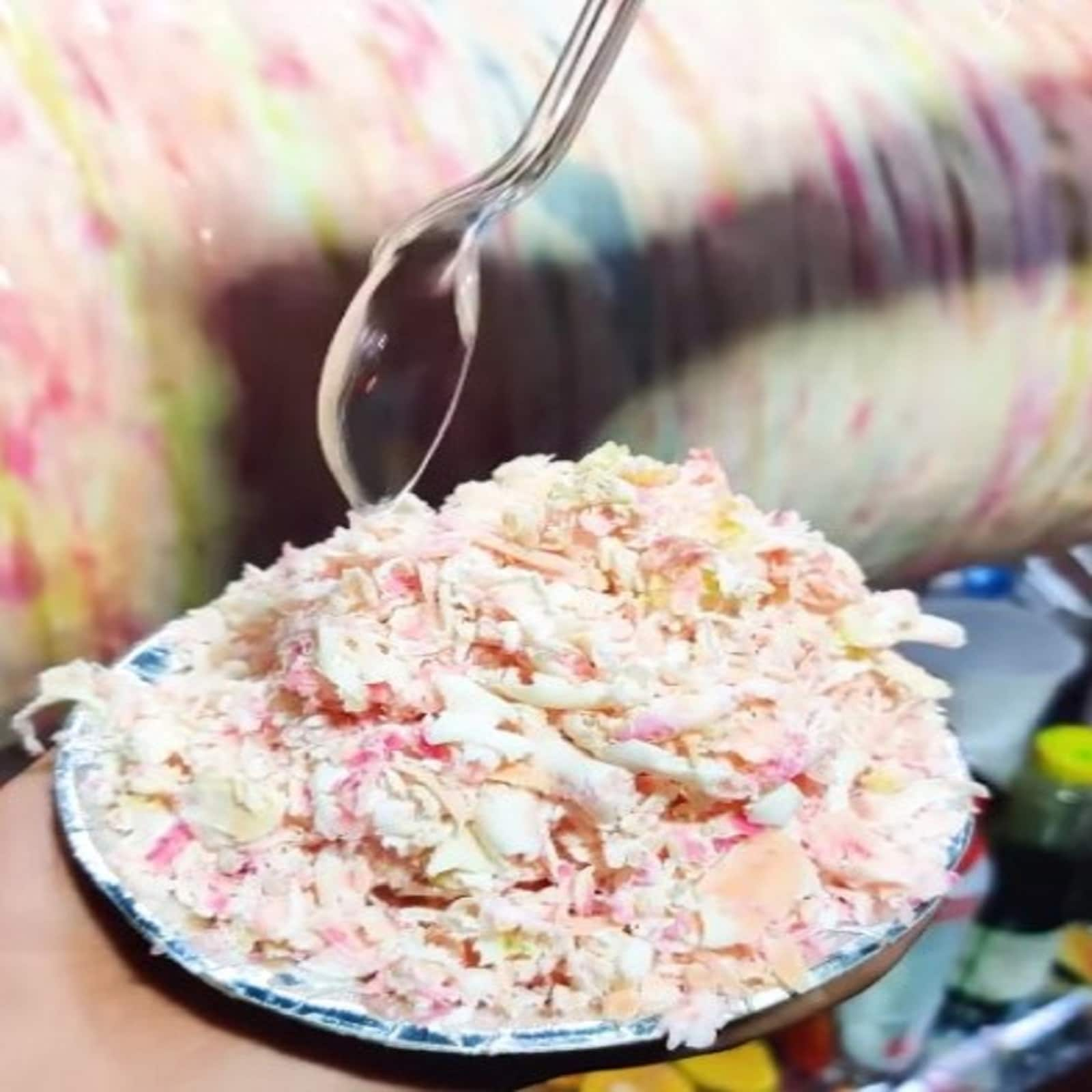 Once frozen, this layer is scraped on a plate and the delicious roller fruit ice cream is ready to eat. Sometimes the taste of orange is coming in the mouth, sometimes of rabri, sometimes of cream and sometimes of other fruits. Wonderful this roller fruit ice cream. Its one plate is available for Rs.70. After eating it, you will feel yourself that it is a wonderful item.
There are also many varieties of Kulfi filled with the taste of Old Delhi.
Since the old work of this shopkeeper is only of Kulfi. That's why many varieties of Kulfi are also present here. These include Mango, Strawberry, Paan, Cream, Pomegranate, Chikoo, Sharbat, Chocolate etc. If you want to get the taste of Old Delhi Kulfi, then these can be tried. Their price ranges from 50 to 60 rupees. We have told you that this shop is related to Old Delhi.
Read also: If you want to taste hot chickpeas and paneer bhatura, then reach CL Corner in Moti Nagar
Jatin Kumar, who is running the shop, says that his great-grandfather Bhup Singh started the work of Kulfi in Khari Baoli, Naya Bans, Old Delhi, about 100 years ago. After that his grandfather Dhaniram took over this work. Later this family work came to his father Mahendra Kumar. This shop opens at 2 pm and this special ice cream can be enjoyed till 11 pm. The last Sunday of the month is a holiday.
Nearest Metro Station: Nirman Vihar
Read Hindi News see more online Live TV News18 Hindi website. Know related to country and abroad and your state, Bollywood, sports world, business News in Hindi.
.